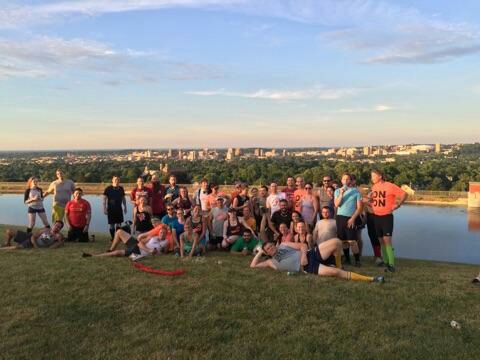 Hashing 101
Hashing is a worldwide phenomenon–learn more about the Hash House Harriers
What the Hell is Hashing?
Hashing . . . a mixture of exercise, tomfoolery, and delicious beverages. It combines running, orienteering, and partying, where bands of harriers and harriettes chase hares on 3 – 5 mile trails through town, country, and forrest, all in search of exercise, camaraderie, and good times.
Hashing began in Kuala Lumpur, Malaysia, in 1938, when a group of British colonial officials and expatriates founded a running club called the Hash House Harriers. They named the group after their meeting place, the Selangor Club, nicknamed the "Hash House." Hash House Harrier runs were patterned after the traditional British paper chase. A "hare" was given a head start to blaze a trail, marking his devious way with shreds of paper, all the while pursued by a shouting pack of "harriers." Only the hare knew where he was going . . . the harriers followed his clues to stay on trail. Apart from the excitement of chasing the hare and solving the clues, reaching the end was its own reward . . . for there, thirsty harriers would find a tub of ice cold beer.
Today there are thousands of Hash House Harrier clubs in all parts of the world, with newsletters, directories, and even regional and world hashing conventions.
Hashing hasn't strayed far from its Kuala Lumpur roots. A typical hash today is a loosely-organized group of 20-40 men and women who meet weekly or biweekly to chase the hare. We follow chalk, flour, or paper, and the trails are never boring . . . we run streets and back alleyways, but we also ford streams, climb fences, explore storm drains, and scale cliffs. And of course we drink beer!
An Incomplete Guide to Hash Terminology
Commonly Used Phrases:
FRB: front-running bastards; people who are fast
DFL: dead fucking last; people who are slow
Virgin: first time hashers
GM: grand mattress; in charge of our sorry asses
RA: religious advisor; performs weddings and leads circle
Shiggy: woods, trees, mud, etc. Hashers love shiggy
Kennel: what we call hash groups; officially we are the Syracuse On-On-Dog-A Hash House Harriers and Harriettes (SOH4)
R*cism: talking about real running events; not permitted at a hash
Hash cash: $5 collected per non-virgin runner (to cover beer costs, haberdashery, etc.)
On-After: a place to meet following the hash; usually for sustenance and more beer
Shovel of Shame: found at an early SOH4 hash; given to a hasher who is exceptionally dumb; cannot be set down at any point during the run
Accusations: things accumulated during the hash that are used to designate down-downs at circle
Down-downs: punishment for stupidity/rule breaking on trail
A Completely Incomplete Guide to Trail Marks
(will always be incomplete because you never what a hare is going to do)
HHH (used to indicate starting point of the trail and where to congregate)
X Check (trail goes 369degrees (anywhere) from here. Must have 5 people to start checking)

Boob Check – only women can check for trail unless they flash
Package Check – only men can check for trail unless they show

O: On-1
O O: On-2
O O O: On-on!!! (I found true trail!)
Hash Responsibly, My Friend
If you come hashing, you might get drunk. We all look out for each other, but what do we say before every hash? No matter what happens, it's my own fucking fault. Some things to keep in mind:
Don't drink and drive. Cabs are cheap. DUI's aren't. As a group we have many couches, and most likely someone will drive you home. And if your Hash Cash was the last $5 your parents let you have, just ask a hare to borrow a few bucks.
Look both ways when crossing the street. Seriously- most drivers aren't expecting drunken fools to come barreling out of the woods.
Know your limits. If you must pass out, wait 'til the On-After. Don't get lost in the woods or a vacant apartment.
Wrap your wiener. Beer goggles might come free with hashing, but childcare does not.
Hashing in Syracuse
The Syracuse On-On-Dog-A kennel was resurrected in August 2012 by Pubic Offender. Our hash trails are run throughout the Central New York area.
Mismanagement
Your 2016 SOH4 Mismgmt…
Even a bunch of delinquents who run to find beer hidden in the woods need some fearless leaders. Our Mismanagement is responsible for general oversight, inclusion, special events, and overall making sure that everyone has an amazing time every week. If you think this sounds like something you'd like in on, let us know!
Grand Master – Ass Full of White Man
The GM is the half-mind who runs the place.
Religious Advisors – Slip and Swallow, Pastorbator (and sometimes Jackoff O'Lantern if we're desperate)
The RA in each kennel is responsible for knowing all the songs, keeping track of hash lore and legend and leading circle at the conclusion of each hash.
On-Secs – FuckWOD, BushyCholera, Six from Behind, Golden Snowball (and whoever else we rope in)
The on-secs are responsible for making sure that people sign in and are accounted for.
Hare Raiser – Cock Or Two
The hare raiser makes sure we have hares to set trail every week.
Web Geeks – Pink Penalty, Ass Full of White Man, Cock or Two, Pleasantly Average
In charge of internets, websites, and gigabytes. Email these guys if the site has gone bonkers or needs updating.
Hashtorian/Stats Bitch – Came With A Fake Name
The stats bitch keeps our database up to date, translates the sign-in scribbles into a sophisticated system so everyone knows how many hashes they have. The hashtorian is master of rehashes and makes sure there is an assigned rehash for each trail, and writes them herself as needed
Haberdashers – Utica Chub, Kickstand, No Child From Behind
The haberdashers order and sell all the SOH4 swag.
Pearl Necklacer –  Kickstand
Hash necklaces are given out to hashers who have been named.
Legal Counsel/Bail Bondsman – Mr. Stiffy (Esq.)
Responsible for posting bail and finding better legal representation than himself should the need arise.
Grand Master Emeritus / SOH4 Founder – Pubic Offender
PO was irresponsible for getting the SOH4 kennel restarted after a lengthy respite.
A Guide for Virgin Hares
Hares make the world go round. Or at least they make the half-minds run around drunk. 
Without hares we'd just sit in a parking lot and drink, and we can't pretend that's exercise! 
Volunteer during a hash, or contact
Cock or Two
to sign up for a trail.  Keep these things in mind as you plain your (shitty) trail:
Doing it alone isn't as fun, so grab one or two others (seriously, you don't want more than four hares)!
Don't pop your cherry with all virgin hares. You'll put things in the wrong places and it won't be as fun. So, one of the hares should be 'experienced'.
At least one of the hares should be a sweeper; this person follows the DFLs around so they don't get lost. BONUS: You get to look at a bunch of hasher butts during trail.
Keep the trail to 3 – 6 miles! Remember: drinking club with a running problem. Let's not overcomplicate our problems.
Here's a timeline for what you should be doing in advance of setting your trail:
Five-ish days before trail:
Email the detrails for your trail to the lustserv, including location, time, co-hares, on-after location (if known), hash cash (if different than the usual), and any other special considerations (headlamps, change of clothes, bug spray, costumes/theme)
Cock-or-2 (or whoever is internet FRB) will post this information to the website and MeetUp
Four days before trail:
Contact the beermeister, Snidely Whipass, to arrange for cooler pickup.  It's important to contact him in advance so that arrangements can be made in time.  Remember: Snidely will make the coolers available, but YOU need to arrange to pick them up and set them on trail.
Sometime before trail:
Buy snacks, flour, and ice for the coolers (necessary if it's going to be warmer than a refrigerator outside AKA warmer than ~40° F)
Hide your coolers well!  If you don't have enough shiggy to hide them in, leave them in a hare's car.
If you need to make any last minute changes, make sure to email the listserv and comment on the MeetUp page.
Seriously, did you remember to make arrangements with Snidely?  This is your last chance!
Immediately after trail:
Pick up the coolers from your BNs–if you are unable to do so for any reason, ask for help!  If you manage to lose a cooler then you will be responsible for buying a new one (they cost around $20).
Give the coolers back to Snidely within two days–or better yet, do it immediately after the hash.
The hash will pay for: beer (handled by Snidely) and ice/orange food/snacks (buy your own and be reimbursed).
You pay for: liquor/shot stops, flour/chalk/etc, any prizes/costumes/extra shit that you want for trail.