So, uh, this is a rehash from a live hare for most of it… still looking for pics from the picture checks would should be epic…
Hashers from near and mostly far showed up in the Griffiss Technology and Business Park in Rome for a lovely autumn trail to celebrate the full moon and world peace through beer.  OTD hared with an assist from Harry for beer and logistics.  We were happy to see the return of Just Mae, Just Julia, CWOP, and welcomed our transplant Kentucky Do Me from Alaska.
After a 12 minute head start for the hare, the pack went out.  I'm guessing they wandered around streets and woods finding poorly layed trail through areas long abandoned in the 90's when there were Air Force base buildings in that area.  Now it's just a weird set of unused streets and areas where they are keeping 'hard fill' (their words not mine) for the many road construction projects going on.  Shot check and it was off to Beer Near 1.
After another 12 minute head start, the pack was on out to a picture check at the North East Air Defense Sector sign, then down the hill past AFRL/RI buildings, Customs and Immigration office, multiple planes and the airport, and onto another shot check.  I heard that at a song check six lead a rousing version of chicken powered team and that Spermy attempted to check across a barbed wire fence onto gov property but was called back.   Somewhere in there were multiple clothing swaps.  After shot check was onto the World Peace Through Beer near.  Delicious beers from around the world were consumed and shared.
After a lengthy BN the back wandered together through a variety of sculptures.  Hashers love being on things and in things (naturally), and this was no exception (see pics at end, or more on bookface in groups).   From there, it was off to exciting playground options at RFA.
Circle, then onto the after at DiCastro's for some wood fired pizza, Italian food deliciousness, and beers.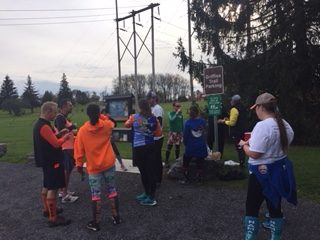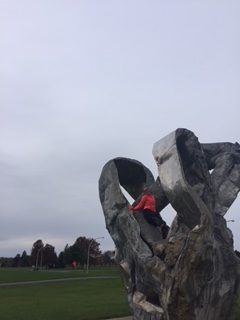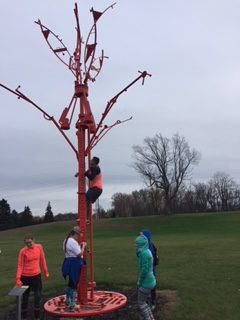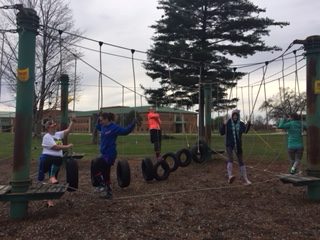 on – World Peace Through Beer 2017 in the books -on,
OTD [One Trick Dick]